Kate Kirkpatrick, Somerset
The sheer professionalism from Sharon and James for the duration of our experience - from arranging the shoot to receiving our beautiful box of treasures - was truly exceptional. Having never had a photo shoot with animals before, I wasn't sure what to expect but they both put us at ease from the onset. The naturalistic approach they used with my horses was inspiring. They've got fantastic ideas which led to the creation of thoroughly beautiful shots that aren't your 'run of the mill' everyday photos. They were calm, patient and genuinely connected with my horses. It was difficult to decide on which photo to choose, so the option of the 'Memories to Treasure' package was absolutely brilliant. Now I am set for birthday and Christmas presents for some time! The quality of the prints, together with the beautifully presented personalised box and memory stick was unique and a keepsake that I will certainly treasure forever. I thoroughly recommend Sharon and James for photographing your horses; they are simply wonderful and really capture the true essence of the bond between human and equine.


Eileen Yaxley, Donabi UK Miniature Horses.

I first discovered the merit and quality of James' photography skills several years ago, during his 'experimental' days.
The first pics he took for me were formal ones of my Miniature Horses for registration purposes, but later he showed his creative side by taking impromptu informal photos unobtrusively. Some of these studies are among the best and most cherished souvenirs of my horses. A particular favourite study taken by James was included in a Society calendar.
Apart from his obvious talent with photography, James' patience and understanding with animals allows him to achieve memorable treasures.



Emma Roberts, Dorset

Having had several shoots with James I would thoroughly recommend him to any of my friends or family! Not only does he capture the character of each of the horses he is both kind and patient when doing so. He understands what is required to show each horse off to it's best and is able to create just what is required in a timely manner. A topclass photographer with a great deal of both skill and patience!




Sarah Griffin, Dorset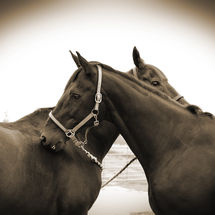 I was really impressed with the professionalism and friendly attitude shown by Sharon when she came to take pictures of our animals. She was so gentle and calm that she really got some amazing shots of our horses and dogs, and we have photos that have captured our animals characters perfectly. So pleased with the result and I can't recommend them enough, in fact I have since recommend Sharon & James to friends & family who have been equally as impressed.